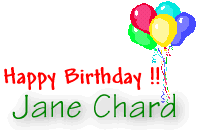 First the bad news......
Lawrence forgot to get your birthday card again, even though he does know it's the 19th of May....
Now the good news......
You got your own website instead!!!!!!!!!!!!!!!!
Not everybody gets a website for their birthday, but you just did. Like it or not, here is your own site. We have created the first few pages for you, and we'll leave it for you to start filling in the rest.

Coming shortly This Is Your Life
Incriminating Photos...
A quick pictorial life tour with some old photos, some seem to be from the days of black and white photography. Was that before colour photography was invented?
The Garden
Just a few pictures of the some of the plants in the garden and the house to start you off...
Events, People Parties, Photo Album...
Including the Adairs and the Sowdens
Images of Thornton
Unusual images of Thornton originally for Thornton Library competition.
Home Made Organic Wholemeal Bread
Has much better flavour and texture than shop bread.
Fylde Ski Club Photos
Photos from Fylde Ski Club walks and other events.
The Lowdown...
....you name it it's going to be here!!!!